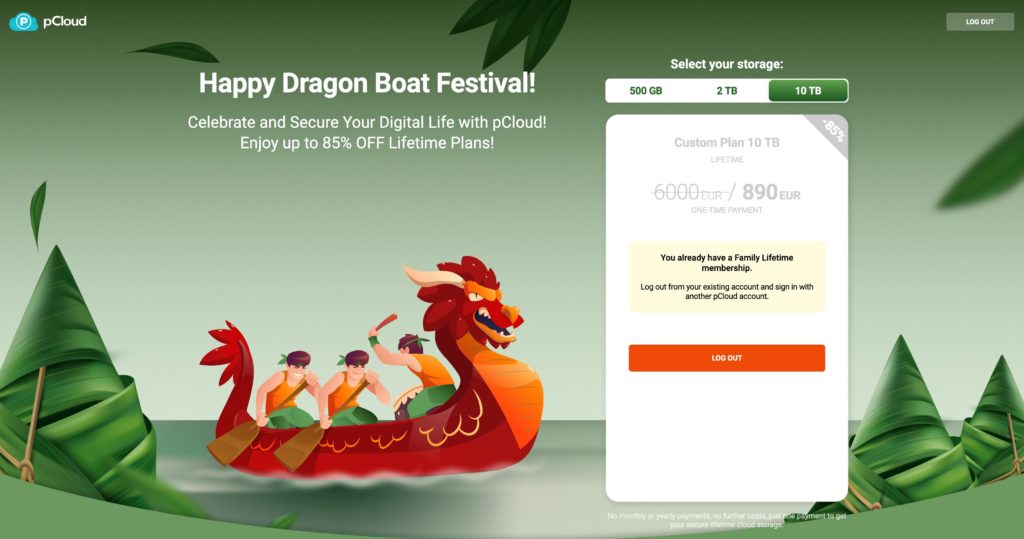 Hello there, digital enthusiasts! The Dragon Boat Festival is just around the corner, and we have some amazing news for you. pCloud, your trusted partner in the cloud storage world, is celebrating this beautiful tradition with a fantastic offer that you won't want to miss!
Catch the Dragon Boat Festival Discount!
During this festive season, pCloud is offering an incredible up to 85% discount on its Lifetime Plans! Yes, you read that right. Now you can secure your digital life without worrying about monthly or yearly payments. With pCloud, you only make one payment, and voila! Your secure lifetime cloud storage is ready to use!
The Fine Print
Here are some important details about this promotion:
This is a limited-time offer that ends on 25th June 2023. So hurry up and grab this opportunity before it's too late!
The offer allows you to purchase pCloud Premium Lifetime and pCloud Premium Plus Lifetime at a promotional price with up to 85% discount.
To participate in this promotion, you need to sign up for a pCloud account or log into an existing pCloud account through the promotional page.
The promotion cannot be combined with other ongoing promotions or active discounts.
If you cancel your Lifetime membership and decide to renew it later, you won't be able to take advantage of this promotion.
Participants can take advantage of the promotion only once. Transferring plans between accounts is not allowed.
By participating in this promotion, you agree to pCloud's general Terms of Service.
Money-back guarantee is allowed only within the first 10 days, following the date of purchase. After this period, accounts are not subject to any payment refunds.
Why Choose pCloud?
Choosing pCloud is choosing peace of mind. With top-notch security features, pCloud ensures that your data remains in your control and safe from any breaches. It's not just about storage, but also about the ease and freedom of accessing your files from any device, anytime. So whether you are a professional, a student, or someone who just needs a reliable place to store memories or important documents, pCloud has got you covered.
Don't miss this golden opportunity to secure your digital life with pCloud. Remember, this is a limited-time offer, and the Dragon Boat won't wait for anyone. Get on board and row your way to secure and hassle-free cloud storage with pCloud!
Happy Dragon Boat Festival!
.
▾▾▼GET THE DEAL NOW ▼▾▾