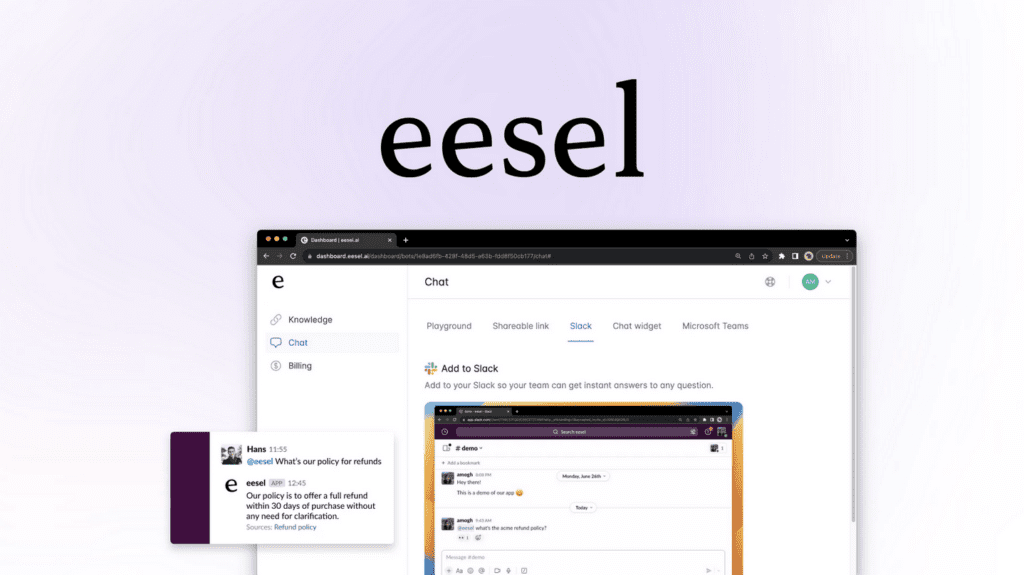 Train Your Chatbot on Company Knowledge for Lifetime with eesel AI
Have you ever struggled to find an answer to a question about your company's policies, processes or products buried somewhere in your documents or internal tools? Wishing you had an always-available "company expert" that could instantly answer any query from your team or customers?
Well, now you can create your very own AI assistant with unlimited knowledge of your business thanks to a huge 90% lifetime deal on eesel AI from AppSumo.
You may have heard of ChatGPT – the popular AI chatbot released by OpenAI earlier this year that's taking the world by storm. With eesel AI, you can basically turn ChatGPT into your very own "company oracle" by teaching it everything it needs to know about your business from your internal documents.
How does it work? With a simple Chrome extension, you can ingest pages from all your favorite work apps like Google Docs, Notion, Confluence and more to train your chatbot. It only takes a few seconds to "teach" a page. You'll then be able to see everything your bot has learned on the knowledge dashboard.
Once trained, you can integrate your chatbot into Slack or Microsoft Teams so anyone on your team can instantly get answers to questions by simply tagging the bot. Imagine never having to search through documents again or repeat the same explanations over and over!
But it doesn't stop there. You can also automatically scrape your website, helpdesk or any other publicly available pages to expand your chatbot's awareness. It even works on complex JavaScript sites that would break other scrapers.
Perhaps the best part is you can customize your chatbot interface and add it as a widget on your website. This allows customers to get instant 24/7 support directly from your AI assistant without involving your team at all. Talk about maximizing efficiency!
With eesel AI's lifetime deal, you get access to all this for pennies compared to other solutions. Plans start as low as $59 for 500 indexed pages and 2,000 replies per month. The most popular Business plan is only $229 for unlimited pages and 15,000 monthly replies.
There's truly no better way to leverage your internal knowledge and free up your team's time than by training an AI chatbot with eesel AI. Don't miss this opportunity to create your company oracle for a 90% discounted lifetime price.
Links:
Let me know if you have any other questions!