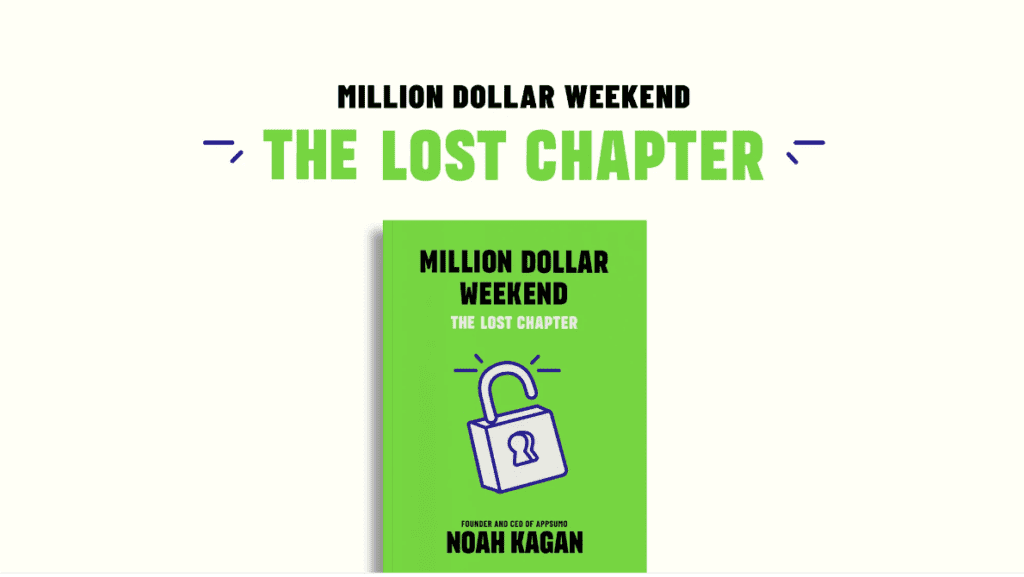 Calling all entrepreneurs and solopreneurs – level up your business growth with an exclusive sneak peek at Noah Kagan's upcoming book!
As the founder of multi-million dollar companies like AppSumo and Sumo.com, Noah knows a thing or two about launching successful businesses. His new book "Million Dollar Weekend" will teach you how to build a 7-figure business in just 48 hours.
But before it hits shelves, Noah is giving the AppSumo community exclusive FREE access to a bonus chapter you won't find anywhere else. This lost chapter reveals 4 powerful strategies Noah has used to accelerate growth and maximize revenue.
Think recurring revenue is the holy grail? Think again – Noah explains why it's not right for every business and shares alternative growth strategies. You'll discover real-life examples and case studies from companies like Mint.com and AppSumo.
This is just a sneak peek at the game-changing business advice packed into Noah's new book. Pre-order your copy today and get the lost chapter FREE to start leveling up your business now!
But hurry – this exclusive AppSumo deal won't last long!
https://get.ltdstartupbooster.com/MillionDollarWeekendTheLostChapter