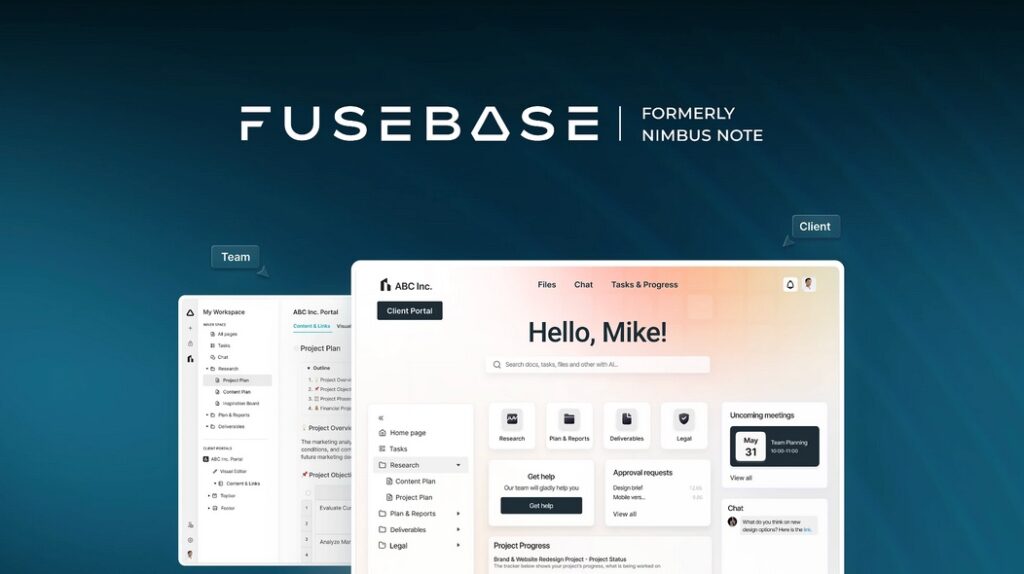 Streamline Collaboration and Drive Client Success with FUSEBASE
With FUSEBASE, you can create custom workflows to manage projects, share knowledge, and streamline communication – all from a single platform. The intuitive dashboard gives you a bird's-eye view of client feedback, files, tasks, and status updates.
Build Branded Portals for Clients
FUSEBASE lets you design beautiful portals tailored to your brand. Clients can access portals through secure links without needing accounts. Manage content approval and provide a seamless experience.
Simplify Team Collaboration
FUSEBASE also streamlines internal processes. Share documents, embed third-party tools, and chat in real-time. Track projects, filter tasks, and assign teammates directly from the dashboard.
Powerful Editing Tools
Its rich text editor allows embedding media, comments, and Google/Airtable integrations. Create dynamic charts and tables to structure client data. Real-time updates foster participation.
Secure and Compliant Platform
FUSEBASE ensures privacy and security. It is GDPR compliant and offers features like access permissions, activity logs, and two-factor authentication.
Lifetime FUSEBASE Access for Just $79
Don't miss this exclusive opportunity to nurture strong client relationships and boost productivity. Get all future updates and support for life at an unbeatable one-time price.
Check out FUSEBASE today to take your collaboration and business success to new heights. Discount ends soon, so act fast!
Deal URL: https://get.ltdstartupbooster.com/FUSEBASE