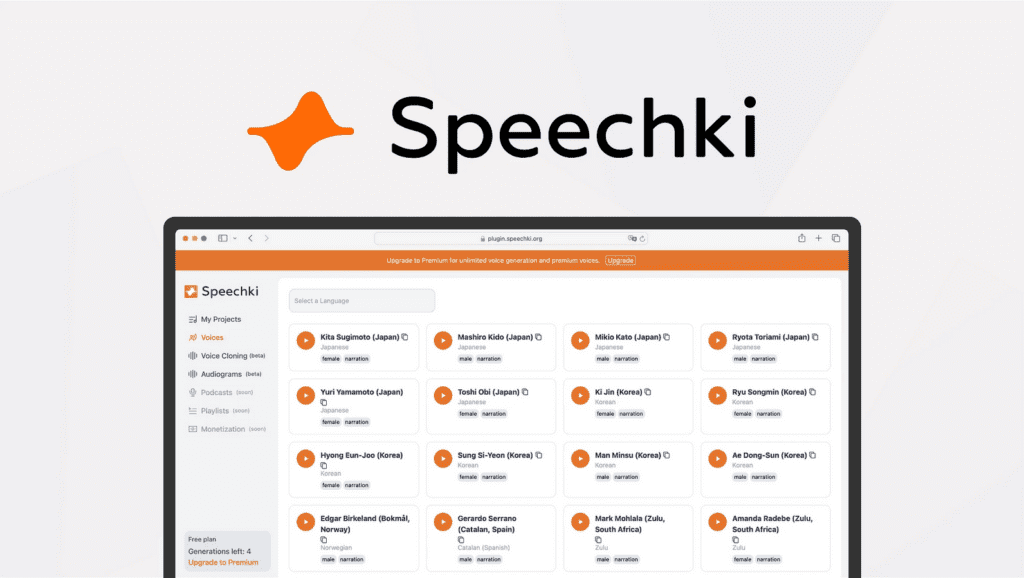 Tired of creating content that never gets read? Wish you could bring your words to life? With Speechki, you can turn any text into natural sounding speech with just a click.
Speechki is an AI-powered text-to-speech plugin that seamlessly integrates with ChatGPT. It uses advanced deep learning to generate audio that sounds human. Choose from over 600 voices across 120 languages – pick the perfect voice and accent for your audience.
Bring your blogs, articles, books, and more to life! Speechki makes it easy to produce podcasts, shareable videos, and audiobooks. Engage your audience by letting them listen on-the-go.
The best part? Speechki takes just seconds to convert text to speech. The interface is intuitive and easy to master. With just a few clicks, you can adjust speech speed, tone, volume, and more to get the perfect audio output.
Why You Need Speechki:
Convert any text into natural sounding speech
600+ realistic voices in 120 languages
Create shareable audiograms for social media
Produce podcasts, audiobooks, explainers
Adjust speech speed, tone, pitch
Integrates seamlessly with ChatGPT
Generate unlimited text to speech
Don't let your hard work go unnoticed! With Speechki, you can make any written content pop. Grab lifetime access today and let your words come to life!