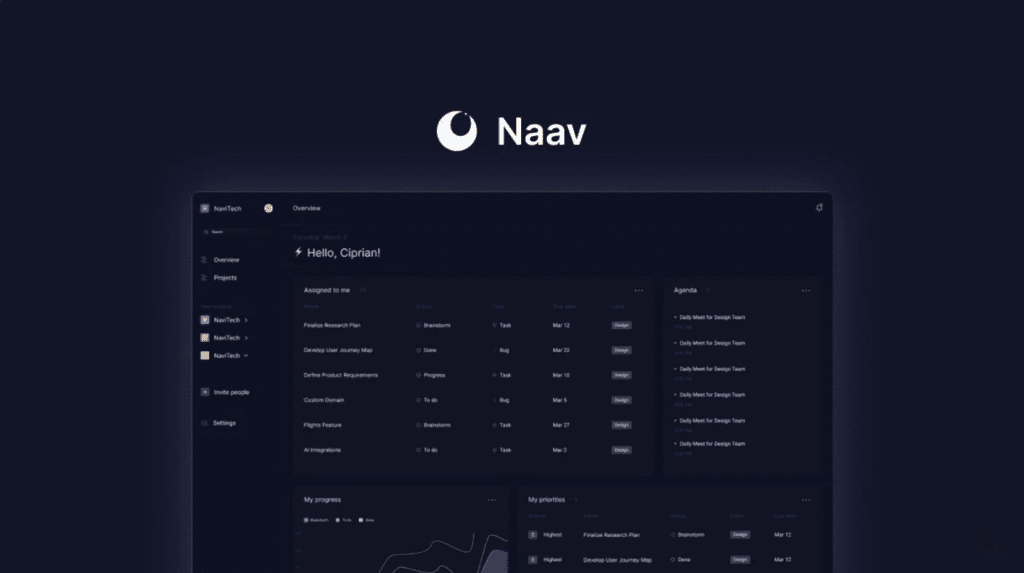 Hello, everyone! Today, I'm excited to introduce you to a revolutionary project management tool that is sure to become a game-changer in how you handle your projects: Naav.
Discover Efficiency with Naav
Naav's slogan is "Work smarter, not harder," and it truly lives up to this promise. With Naav, you can spend more time on your projects and less time managing them. It empowers you to discover efficiency across your organization and team, enabling you to stay organized and on point with everything.
Comprehensive Task Visualization
One of Naav's standout features is its capability to visualize your tasks in any way you want. It provides multiple views for any type of project you build, from Board View to List View, Table View, Timeline View, and Calendar View. This powerful feature allows you to see the bigger picture of your project and analyze your progress easily.
Simplified Task Management
With Naav, you can forget about the back-and-forth communication and experience a streamlined approach to project management. Every project detail is editable in a user-friendly table format, allowing you to navigate effortlessly through your data.
Naav's task page is a game-changer when it comes to task management. It presents all the essential details, such as start and due dates, estimations, subtasks, and labels, in a clear and concise manner. You can track your time, release tasks, and stay updated on task activity. Moreover, it allows you to move tasks between statuses, apply filters, and customize statuses to suit your workflow.
Built for Everyone
Naav is designed for everyone, so you don't need a "degree" to use it. Regardless of your technical experience, Naav ensures that anyone can navigate and utilize its features seamlessly. You can also import from other tools with one click, making the transition to Naav smooth and effortless.
Don't Forget About Your Tasks
With Naav, you can set reminders and be sure you won't forget about any task. It allows you to track the time you spend on a task, see how much you've spent on a task, and stay on point with your deadlines.
Pricing and AppSumo Deal
Currently, there is a fantastic deal on AppSumo for Naav. For a one-time purchase, you can get lifetime access to Naav with plans for 3 users ($39), 6 users ($78), and 9 users ($117). These plans include all features, unlimited projects, and all integrations.
Why Choose Naav?
Naav is ideal for developers, IT/security agencies, and project managers. It stands as a viable alternative to Asana, Jira, and Monday.com. With its GDPR compliance and AI features, Naav ensures that your project management is in line with the latest standards.
Join the Naav revolution today and experience a new level of project management efficiency. This could be the tool you've been waiting for to take your productivity to the next level. Don't miss out on the chance to make your project management easier and more efficient with Naav.
---
Remember, this amazing deal won't last forever. Grab this opportunity to make project management a breeze with Naav!
.
▾▾▼GET THE DEAL NOW ▼▾▾
https://get.ltdstartupbooster.com/naav