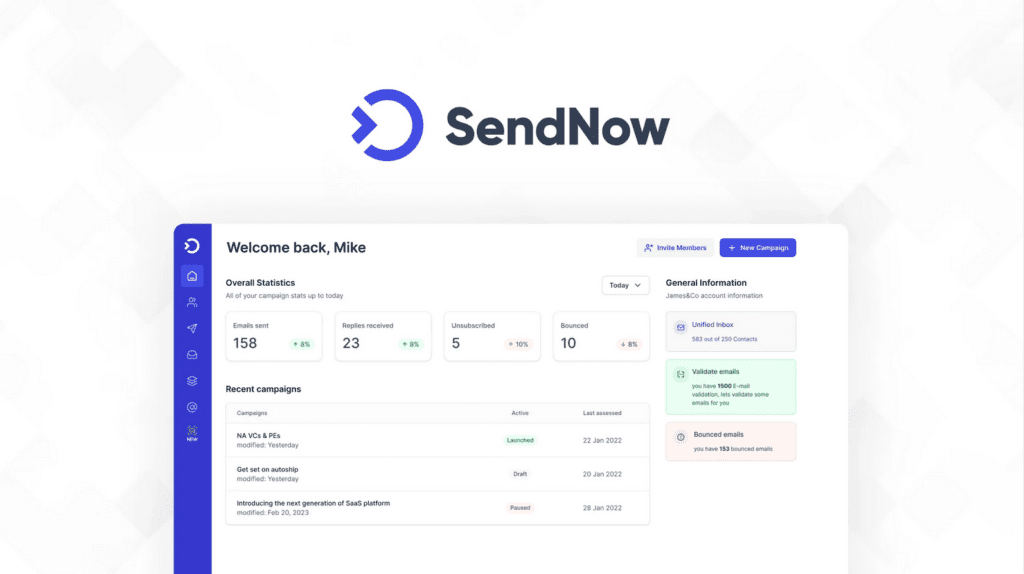 Unlock the Power of Cold Email Outreach with SendNow [Exclusive LTD Deal]
Cold email outreach is one of the most effective ways to connect with potential customers and generate new leads. But we all know it can be frustrating trying to improve deliverability and increase engagement.
That's why we're thrilled to share an exclusive lifetime deal on SendNow, an amazing software that helps you optimize your cold email campaigns.
SendNow lets you connect unlimited email accounts to spread sending volume and avoid hitting inbox limits. It also features real-time inbox rotation to manage sending pace. You'll get instant notifications if emails fail to send or sync so you can stay on top of deliverability.
The software makes it easy to build targeted sequences, schedule sends, and track campaign analytics. With customizable templates, A/B testing, and open/click tracking, you'll know exactly what resonates with your audience.
SendNow enables creating an unlimited number of workspaces to keep client projects organized and data secure. You can add unlimited users and contacts without worrying about storage limits or deleting data.
This is a complete cold email automation solution designed to get your messages opened by the right people.
Here are the key benefits:
Improve deliverability with inbox rotation and reconnection
Automate sequences and scheduling to scale outreach
Create unlimited workspaces and add unlimited users/contacts
Track campaign analytics and fine-tune your approach
Custom templates, A/B testing, open/click tracking
Real-time notifications if emails fail to send
We've secured an incredible LTD deal on SendNow with lifetime access and great pricing. It's the perfect way to step up your cold email game and start converting more leads.
Deal URL: https://get.ltdstartupbooster.com/SendNow
Don't miss out on this exclusive opportunity to transform your outreach! Check out the LTD deal on SendNow now before it's gone.