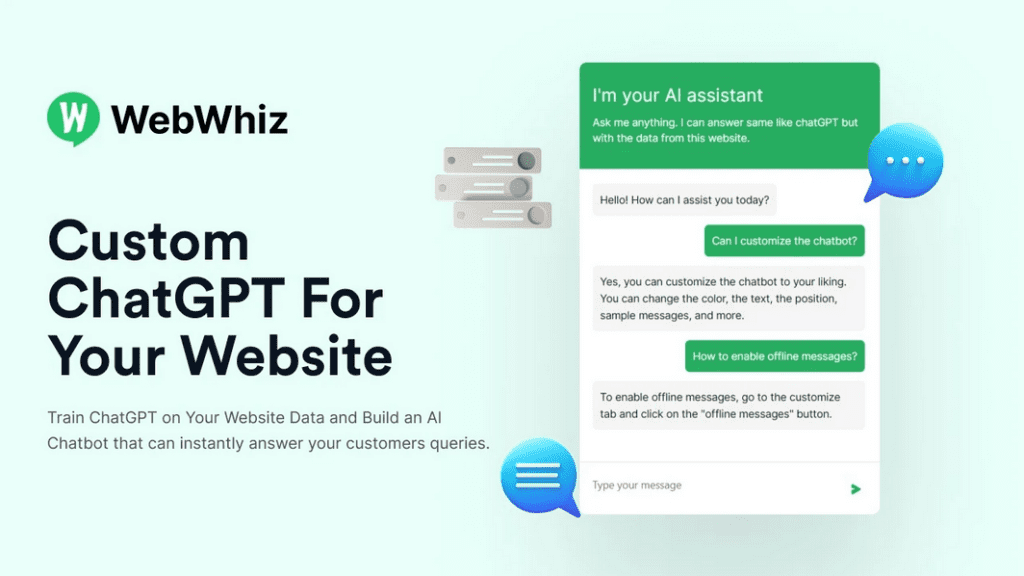 Unlock the Power of AI to Boost Your Website with WebWhiz [2023 Deal]
Take your website to the next level with WebWhiz, an incredible new AI chatbot that delivers instant, accurate support to your customers 24/7.
With just a few clicks, WebWhiz integrates an AI assistant directly into your site, trained specifically on your product data to provide tailored, data-driven responses. It requires no coding at all – simply add your website URL and embed the chatbot with a single script tag.
WebWhiz seamlessly integrates with your existing theme to offer a unified experience. It also regularly crawls your site to stay up-to-date on any changes.
The customizable chatbot builder allows you to:
Fine-tune responses with custom training data
Modify the chatbot appearance
Switch to offline mode for direct messaging
Key Benefits:
Round-the-clock customer support
Increased conversion and sales
Reduced support tickets and costs
Improved customer satisfaction
Take your website to the next level in 2023 with the power of AI. WebWhiz is offering a lifetime deal that lets you build unlimited chatbots for one website for just $59.
Don't miss out on revolutionizing your customer experience with this innovative chatbot assistant.
Get the Deal Now Before It Ends!
https://get.ltdstartupbooster.com/WebWhiz